This was definitely one of the weirder sites we came across when researching online dating sites. The front page says that is was designed by one man, Markus, and his team of PhDs. Well, it certainly feels like that. This site really seems to have no idea about how to date women. It wants to guide you throughout but instead just sets you up with terrible women through their 'advanced algorithms'.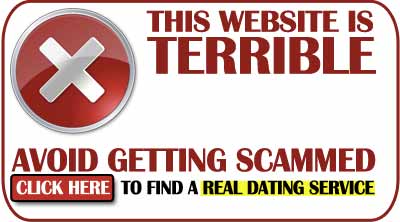 Geeky Girls
But maybe the designers of this site were just trying to attract the type of girls they like. If you are into geeks and nerd then this is a great site for you. We couldn't find another site that was so full of odd looking, geeky girls in the whole of our study. When you compare this site to those in our top 5, you have to wonder why people sign up for a site like this instead of one of those, unless they have a fetish for these type of girls. We always suggest you avoid sites only offering absolutely beautiful women, the 10s, but we expect most sites to still have women who are reaching that level. This site really only had women much further down the scale.
Overcomplicated
A big problem with this site was that it just tried too hard. When you are pretty adept at online dating, as we have become, the little extras that are bolted onto a site in order to help the less proficient become more of a hindrance than a help. This was a case in point. The guys at this site has designed a complex matching process, but we found this was causing more problems for us than cures. We were paired with girls we obviously had no interest in, and it seemed to actively steer us away from women that we might have had luck with.
This led to huge problems for us when using the site. We just wanted to be left along to find hot girls in our vicinity that we could use our own tips and tricks and end up dating. Because the women on this site were at the lower end of the spectrum, this concept was already difficult, but with the site conspiring against us it was made impossible. Left alone, we might have had success on this site, but with all the extra matching systems, we found it despairing.
Positives
Large membership
Good if you want specific type of girl
Negatives
Low quality women
Complicated site to use
POF.com – Summary…
This site was just too complicated to use successfully, and became more of a hurdle than a help the more we used it. Could be good if you like geeky girls, but apart from that it is not one we would recommend.